Where can I find quality
commercial siding near me
?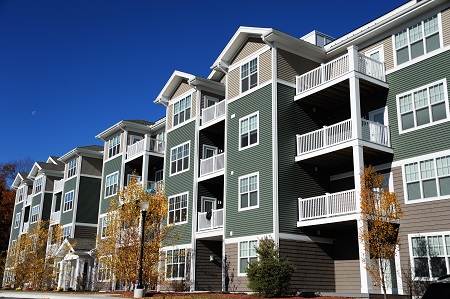 When you're looking for a new quality exterior for your business, apartment building, or multi-family housing, look for the most reputable local contractor in Portland, OR. Get your finished project on time from experienced commercial siding contractors. At NW Commercial Exterior Company, we supply our customers with a professional and experienced siding installation team to make sure your home gets the best look and protection. With brand-new, high-quality siding materials, including vinyl siding and fiber cement siding from James Hardie, our team of expert contractors can fill all of your commercial building needs with several different detailed siding options. Contact us today and find out more about our quality products and how we can install your commercial building's new exterior in Portland, OR, and get a quote from us!
Who is the best local option for
apartment siding
in Portland, OR
If you're a landlord looking to get new siding for your apartment building, NW Commercial Exterior Company is your best option for quality craftsmanship in Portland, OR. For business owners, we know that getting the best work for your dollar is a necessity. We stand by our work and guarantee that our materials will be the best choice for your apartment buildings. Along with our quality materials, we offer:
Dedication –Behind every project we work on and complete for our customers, there is a team of experienced siding contractors that work with you to complete your vision. With years of experience in commercial siding installation, repair, and replacement, we make sure that every project is left with satisfied customers from start to finish.
Honesty –Other contractors could quote you one price, but end up charging you more in the end. When we give you our thoroughly detailed quote, that is the price you pay in the end. We take an honest approach to every job and keep open communication with our customers throughout the entire process.
Guaranteed Satisfaction –Our materials are covered by their manufacturers' guarantees. Our own handiwork is covered, as well. Our experienced contractors stand behind their work but will fix any problems that may occur.
Keep your
multi-family housing siding
maintained by professionals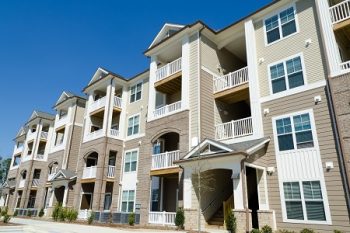 The Pacific Northwest is known for its wet and damp climate. This weather can be harmful to your multi-family houses, especially if the materials aren't properly maintained by professionals. By using high-quality materials from manufacturers like James Hardie, we can help keep your maintenance costs low for your multi-family housing units. Our siding contractors can replace your old siding with durable fiber-cement siding from James Hardie to keep your home safe from the elements!
Get a quote for
commercial siding
in Portland today!
If you need commercial siding service for your business, apartment complex, or multi-family homes in Portland, contact the professionals at NW Commercial Exterior Company to get started on your project! We're experienced in installation, replacement, and repair, as well as window installation! We will gladly send one of our experts to your location to thoroughly inspect your current siding to look for any potential issues and create an accurate estimate of your costs. Once we provide you with a quote and get started on your project, we know you'll love our exterior services when you see your finished product! Call NW Commercial Exterior Company today!
---
Portland, OR
The largest city in Oregon in terms of both size and population, Portland is a vibrant city full of wonderful and unique food options, beautiful natural scenery, and one of the most interesting cultural scenes you can find anywhere in the United States. Founded in 1845, Portland was named after the city of Portland, Maine. The area was originally used as a port city and was mostly used for the lumber industry, due to the abundance of trees in the area and its accessibility to the Pacific Ocean via the Willamette and Columbia Rivers. The city is nestled at the most northern end of the Willamette Valley and is surrounded by hills and in between two mountain ranges, the Coastal Range and the Cascade Range. Portland is 60 miles east of the Pacific Ocean and about two hours west from the popular destination of Mount Hood, making it a desirable area for those who enjoy the outdoors. The city itself boasts an incredible amount of parkland, nearly 16% of the entire city. With Portland having so many options for activities, it's hard to be bored in the country's "smallest big city". The city offers numerous museums, theatres, concert halls, a beautiful zoo, and sports teams as well. Portland is home to two major sports teams, the Portland Trailblazers of the NBA and the Portland Timbers of the MLS. You can watch a game, enjoy unique dining options, try out one of the many microbreweries in the city, or grab a cup of famous Stumptown Coffee. Whatever it is you're looking for, Portland has so much to offer.